The conception of a new office reflects the creativity of those who design it and the personality and functionality of those who live it. We are constantly looking for high-performance materials, long-lasting and with a great aesthetic impact, for this reason we have introduced some new materials in the Martex collections that perfectly meet these needs.
High performance laminate
In Agile and Pigreco collections we have included SUPER MATT BLACK laminate for top th. 30 mm. A finish that is not only beautiful to look at: with a low reflection of light its surface is extremely opaque, soft to touch, and with high technological performance.
Anti-fingerprint
Resistant to scratches, bumps and abrasions: ≥ 6NW
Heat resistant: up to 160° for 20'
Easy to restore
Easy to clean: resistant to disinfectants such as bleach (12%), hydrogen peroxide (30%) and sodium hydroxide (30%)
Antibacterial surface: suitable for contact with food, high capacity to eliminate the bacterial load
Gres, a choice of great appeal
Gres is a water-repellent material, resistant to scratches, stains, acid products, as well as sudden changes in temperature, resistant to the point of being almost indestructible. It is ideal for Han and Anyware desk tops or Prestige storage tops.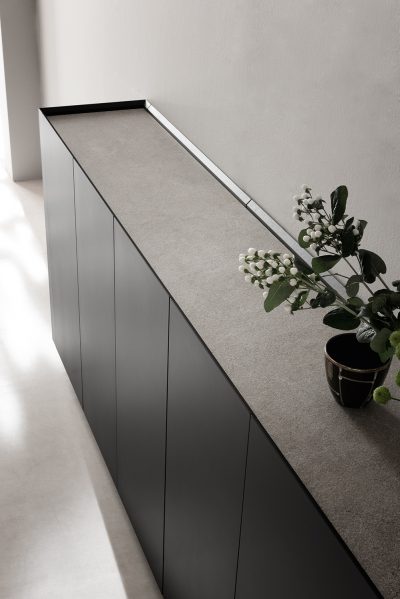 Timeless marble
Always a symbol of elegance, marble is a precious material able to embellish any environment. Thanks to its intrinsic characteristics, it makes bright every space in which it is located. One of the primary values of natural stone is that it has always produced in unique and unrepeatable pieces. Every single piece, even from the same quarry or from the same block or slab, is always different from one another; this is why Martex manages marble as a tailor-made project.